Like land speed records and Fabergé eggs, hearts were made to be broken. It is the goal of any artist worth his or her salt to take aim at your pulmonary artery and squeeze the emotional trigger. Pop goes your sensibilities like plastic Perfection. And no, this isn't limited to the pages of Norah Hess novels, Beaches, and Carpenters albums. Comics, too, offer moments even the most crocodilian among us could agree to be poignant and (cardiac) arresting. Perhaps, like me, you have found yourself getting a little misty amidst the derring-do and cascading debris and wondered how you could have allowed the caped crusaders to breech your usually impenetrable defenses. As a bearded man in touch with his emotions, I like to record these incidents in a "Feelings Diary." I'd like to share some excerpts from its tear-stained pages with you.    
Here is a (by no means definitive) list of ten moments in comics which required that I blot my eyelids with the back of my hand and lie to all surrounding teddy bears and other plush compatriots. "There's something… there's something in my eye."
We often cite this one as a girlfriend book, a comic which you can safely pass to a love interest who might otherwise reject the medium. For one, it's a tender relationship tale and is really very accessible. But beyond that, it's just a great comic book. Your experience may vary, but having developed as an artist in the Catholic school system, I can relate to the ongoing theme of religious guilt versus artistic freedom. This conflict dominates the book, and I think personal baggage might flavor your individual reading. It's been a few years since I read Blankets, and as I paged through it this morning, I kept happening upon truly whimsical pages relating to the central love story. But that's not what I was looking for. When I remember this book, I focus on a single panel which remains one of my favorite images in comics. Ashamed of his drawings, a god-fearing young Craig tosses his artwork into a trash can and sets it ablaze. He tilts back his head and allows his creative demons to pour out of his mouth. It's a haunting image, and speaks to the anguish of spiritual guilt. "I've wasted my God-given time on escapism! Dreaming and drawing — the most secular and selfish of wordly pursuits! I acted as if I was sacrificing a burnt offering before God."
Thankfully, that's not the end of the story.
On the opposite end of the spectrum, Brian K. Vaughan offers a stirring sentiment for the hope and possibility inherent in the life of an artist in the final page of The Escapists. Anyone who's ever faced a deadline knows that the scariest thing in the world is a blank page. But there's also nothing so sweetly liberating. It is a boundless world asking only to be furnished, inhabited, realized. It is anything and everything we could ever want it to be. Art and creation is our escape and our redemption. It is an opportunity to suggest, "This is how it ought to be." And if we create, we have the chance to inspire others to our cause. Freedom from the mundane, passport to something better and brighter. That final image (not pictured here; you'll have to experience it yourself) is energizing and exciting. Happy, hopeful tears.
3) Fun Home by Alison Bechdel



"It's true that he didn't kill himself until I was nearly twenty.  But his absence resonated retroactively, echoing back through all the time I knew him."
I'd choose a specific moment from Bechdel's memoir of sexual identity and familial loss, but as any good book should be, it's in the hands of a friend. If pressed, I'd probably say the maps are particularly resonant. Bechdel painstakingly traces her father's path on the day that he died. Much of Fun Home is frank and comical, free of the lachrymose sentiment of Blankets. It's almost a black comedy. But something about Bechdel's attention to detail and preservation of events and even geography, is really touching. In trying to make sense of tragedy, she takes an almost academic approach to organizing the facts and relating them to anecdotal memory. What emerges is a heartbreaking account of a girl and her father, and how their connection evolves over time and shared experience.
I'm a dog person, through and through. And I put off reading We3 for a long time, knowing that I'd be in for some truly Old Yeller misery. Three stray animals: a dog, a cat, and a rabbit, are outfitted with mech suits and a glitchy communication system, and are destined for black ops carnage. Fortunately, their handler takes pity on them and releases them from their government compound unto an unassuming world. What follows is an artistically spectacular mash-up of Homeward Bound and Apocalypse Now. Pursued by the government, the three innocent war-machines weave a tapestry of violence over the countryside. For fans of Quitely's 'beautiful ugly' renderings, the book is a visual feast. It's one of the most violent books I've read, but it's also one of the most emotionally gripping stories on my shelf. The reason is 'Bandit' the canine leader of the group. He's essentially a benevolent Frankenstein's monster. Simple-minded, but innocent and loyal, even to those who would do him harm. The animals are able to communicate on a primitive and rudimentary level through their suits, and the effect is a kind of Bizarro speak. Bandit frequently looks for approval in his constant efforts to be a good dog. And it gets me every time.
5) Fell written by Warren Ellis, art by Ben Templemsith

"This is where I live now.  None of you are nothing to me."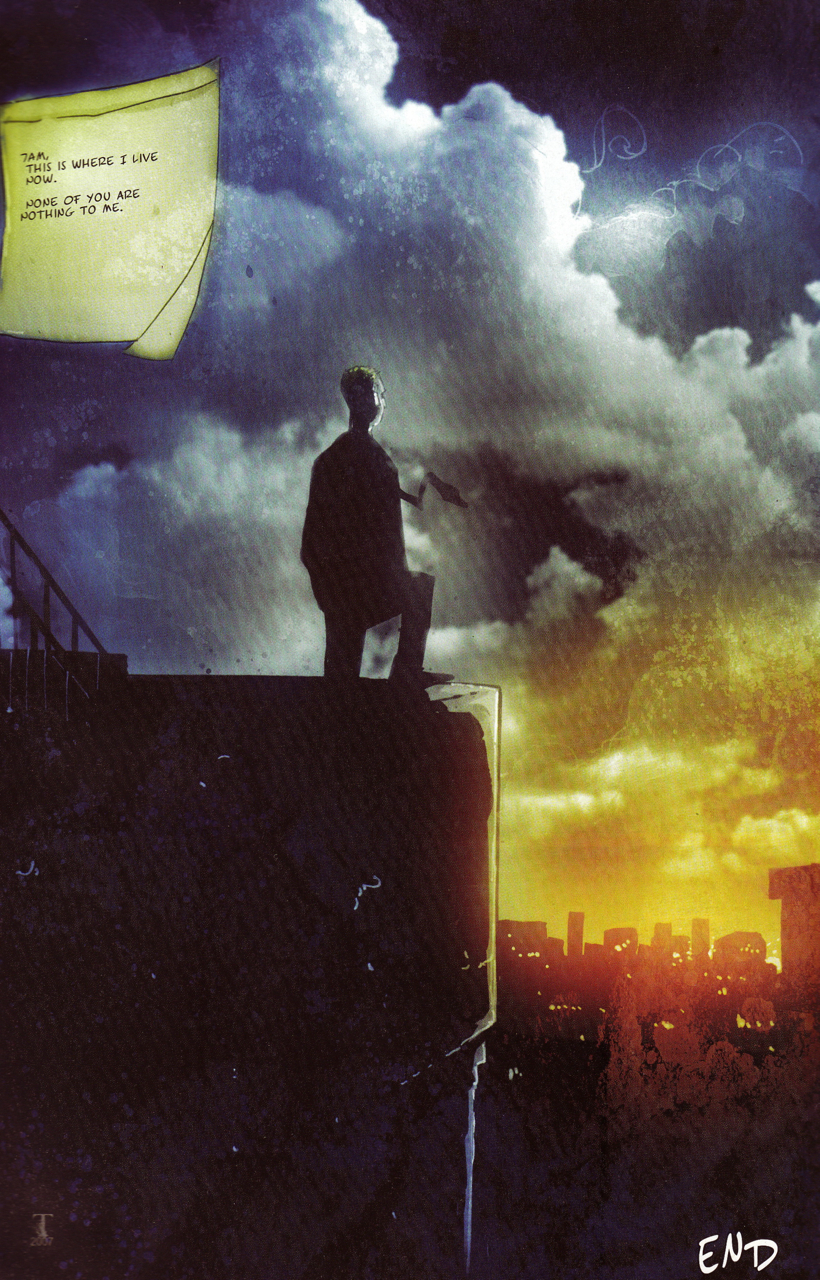 Even Warren Ellis has a heart, and when it beats, it's capable of a kind of bittersweet melancholy that makes all the grit and grime worth the trudge. Richard Fell is a special kind of hero. Thrust into the bleak and harrowing environs of Snowtown, an amalgam of Gotham City and Purgatory, he refuses to back down against crime and corruption. Moral decay is not permanent, and Fell is fully invested in saving a city that never so much as thanks him. Like Quitely, Templesmith is capable of some particularly gruesome imagery. But on the last page of issue #8, he offers a Snowtown sunrise (which, now that I type it, sounds like something Ellis might scrounge up on Urban Dictionary) which is downright breathtaking. In spite of everything, Fell is committed to fixing a town that others would see as hopelessly broken. Then again, heroes have to see things a little differently if they're going to save the world.
Identity Crisis was my first real foray into the greater DC Universe. It is the book which really sold me on that world and beckoned further exploration into its rich gallery of characters. Identity Crisis is an important turning point in that the stakes were raised exponentially. It concerns very adult themes of rape and the ethics of power. It's a murder mystery with a sophisticated construction, and it asks very difficult questions of characters we have known since childhood. In a sense, Identity Crisis is playing for keeps. By taking the conceptually comical figure of Ralph Dibny — Elongated Man — and stretching out his features into an expression of complete anguish at the death of his wife Sue, Morales creates a disturbing and powerful image of heartbreak.
7) Maus by Art Spiegelman



"God damn you! You… you murderer! How the hell could you do such a thing?"

I've talked about Maus before, but if we're going to have a conversation about emotionally wrenching stories, Art Speigelman's masterpiece about the Holocaust and narrative history is an essential ingredient. If page after page of matter-of-fact recollections of torture and despair are not enough, Spiegelman also bookends these stories with very personal exchanges between himself and his father. He is at once astounded and ashamed of his father's actions as a survivor and as a senile old man. When Art discovers that his father burned his wife's diaries and letters, Art is furious. He, a preserver of history, denounces his father as a murderer. There is nothing so devastating as misery multiplied in time.
Not all heartbreaking moments are depictions of loss and despair. Some moments are about connection. In Hollow Earth, an early story of the B.P.R.D., members of the Bureau recount their first meeting with Hellboy, the cornerstone of the organization and a friend gone missing. Abe Sapien remembers the moments when Hellboy rescued him from experimental testing. Hellboy reaches into Abe's tank and grasps his arm in companionship. Liz remembers the despair following the awakening of her pyrotechnic powers and Hellboy's simple offer of a lolly-pop. In B.P.R.D. proper, there are probably too many tender moments to mention. The disembodied spirit of Johann Kraus, one of my favorite characters in any comic, lacks a corporal body, but is easily the most human character in a book about monsters. His curiosity and concern for simple creatures like Roger the Homunuculus provide some of the strongest visuals.
The standout for me, by far, is a moment at the end of Justice Society of America #7, Citizen Steel's origin issue. Because of his new-found powers, Nathan Heywood is unable to feel. He's indestructible, and unable to contain his strength. Taken in by the JSA, he is outfitted with a costume to keep his powers under control. He struggles with the guilt of surviving a massacre of his adult relatives, constantly aware of his legacy as the grandson of the original Commander Steel. Ultimately, Nathan finds peace as Citizen Steel, a member of the new Justice Society of America. In the end, he takes comfort in the loving embrace of his remaining family. It's a great single issue, and probably my favorite origin story.

And that's my list. I'm sure I've neglected some iconic moments of heartbreak, but these are some of the snapshots that resonate with me. What great moments in comics left you a little misty? What comic moments left you weeping in the bathtub or breaking down on the subway?  
---
Paul Montgomery wears his heart on his sleeve. Unless his shirts are at the cleaners, in which case, he keeps it in a jar with a few leaves and a twig. Send him your heartbreaking stories at paul@ifanboy.com. You can also find him on Twitter.
Now online: Listen to his first scripted episode of the award winning audio drama Wormwood: A Serialized Mystery, co-written with Wormwood creator David Accampo.
Paul joins the writing staff with season 2, episode 14 "Jack Nicholson's Nose."  All previous episodes from seasons 1 and 2 can be found for free at wormwoodshow.com or on iTunes.