It feels like there's finally a consensus among the remaining comic book readers, and it's that the people who publish comic books are idiots and horrible people. That might well be true, but my guess is that they have no idea what to do, because nothing they try seems to adhere to any common wisdom. Let's take the following situation. I believe these points to be truths.
Readers call for more diversity in the DC Universe, from women to sexuality to race.
Comic books from DC featuring new characters do not sell.
Readers do not like when the existing characters are changed from the traditional iteration.
Do you see how the publisher cannot possibly win? How in the sweet flames of Hell does one bring those contradictions to accord, and still meet their goal of selling enough comic books to remain profitable and in business?
So we've been through the "lady whoever" phase of making lady versions of existing male characters, and that didn't count. We saw the terrifying and sad bigot shitstorm that followed the new Ultimate Spider-Man, and now we're seeing the introduction of Alan Scott, who is not the same Alan Scott as Alan Scott used to be following the relaunch of DC Comics, as a gay character in Earth 2, written by James Robinson and drawn by Nicola Scott.
This is DC trying to sidestep as many of those landmines as possible and do something, since doing the same thing, with the exception of most Batman titles, doesn't get them anywhere. It's bringing more diversity to comics, without changing the major characters, but still trying to take a step in a positive direction.
DC played it cool. If James Robinson is to be believed, and he is, because we have talked to him and have no cause to believe otherwise, this has been in the offing for a long long time. At a convention a couple of weeks ago, Dan DiDio answered a question from the audience, stating that a gay character would be introduced soon. That's it. They didn't say who it was, and I can't say why. Maybe they wanted that to be revealed in the pages. I get the sense that DiDio sort of shoots from the hip, and goes off plan sometimes. He's not un-savvy, and probably knew that it would cause some buzz, but that is routine as it gets in comic book marketing. That was their giant marketing ploy to boost sales. Also, in this case, let's be honest, sales on Earth 2 are never going to be Earth 1 shattering. The best they can hope for is a goose of maybe 10K books, which isn't peanuts, but it's not raising any eyebrows at Warner Bros HQ. I highly doubt anyone in sales at DC Comics thinks there's some unearthed treasure trove of gay readers who were just waiting for the right book. No, they waited a little while, and gave media, such as us, a chance to talk to James Robinson about it when it was announced. It wasn't like they took out banner ads. Everything that took place after the panel question and the announcement today was from fans on the internet, and websites playing the great Gay DC Witchhunt and Closet Outting game. DC didn't do that. They just didn't do anything to stop it. It doesn't strike me as a master plan of marketing guile and manipulation, but the thing is, we'll never know. It's hard for me to be all that upset about their relative inaction as a way to manipulate the marketing base.
It also seems like the right time to bring up the writer, James Robinson, who said he floated the idea of making Alan Scott gay, when Obsidian (Alan's Scott's gay son) disappeared in the reboot. I've read a lot of James Robinson's work, and I know two distinct things about that work. First, I know that no one working in comics today has a better handle on, reverence for, or understanding of these JSA characters. No one. Period. I wouldn't know jack nor squat about Alan Scott if not for James Robinson. The other thing I know? Robinson, in Mikaal Tomas, blue Starman of space, was gay. Well, he was sort of pansexual, but in a long term gay relationship in the Starman series. He was also in the Justice League. I guess they could have tried to float a Mikaal Tomas series, but even with Alex Ross on art duties, it would have been canceled in about 1 1/2 issues. The point is, Robinson is as good a guy as any to do a story like this. It's not going to be the Rawhide Kid (the worst example of gay conversion in the history of comics). That's just not how Robinson works. He's understanding, empathetic and respectful. If you're asking if the guy's heart is in the right place, I'm almost sure it is.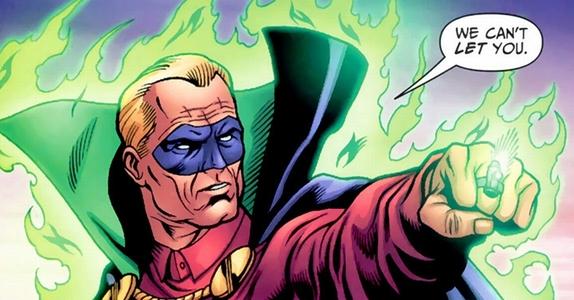 Finally, there's the "changing a character who has been around 70 years" argument. I've got nothing on this one. These characters change all the time. They always have. There are maybe 8-14 actual Alan Scott fans left on the planet, and James Robinson is their king, so let it go. Grasping, white knuckled, to an imagined pop culture history is a waste of energy as far as I'm concerned. Many will disagree, but if characters in comics never changed, they would be awful today. They would be more awful today. Maybe this is a more fundamental change, because sexuality is a fundamental aspect of personality, but really only in relation to how society treats them, and how that affects their personality. As far as 95% of comic readers go, Alan Scott is a 70 year old blank slate. It's not that no one knows who he is, it's just that no one really cares.
So what do you want? Accepting that nothing is perfect, I don't see the harm in this compromise. They're just not going to go full queer in the DCU, especially given today's political climate on sexuality. They're also not going to keep everything the same as it ever was ever for all time in perpetuity. Yet eventually, the tellers of stories, even stories told solely for the financial continuation of a multinational conglomeration are going to dab their antipodal feet out in one direction or another, and when it comes to comics, it makes NO ONE happy at all. Then when the thing actually comes out, and everyone immediately stops talking about it. DC Comics literally cannot win when it comes to making their fans happy.
Unless the story is really good, and then none of this part is remembered, and what is not remembered is often repeated.