Yesterday, you may have heard about this weenie-tot who was a dick to Rob Liefeld. I'm loathe to link it quite honestly, because I think it shows the worst side of comics fan culture. It's one thing to pull a Michael Moore with someone who's a public official, and it's another to harass a guy who made a lot of popular comic books 15 years ago.

So what did they accomplish? Well, they got some giggles, and they got some notoriety for a couple days, and they showed that some fans of comic books are utterly without respect for other people. Tee hee.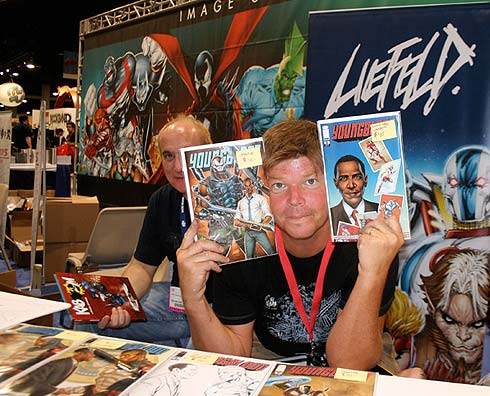 But what about Liefeld? I'm not really a fan of his work, but even I can admit that Liefeld got more people into and excited about comics than most of the people who walk this earth today. Liefeld had a big hand in getting us to a point where there are companies like Image Comics, and by extension others publishing creator owned work, and most importantly, Rob Liefeld created comic book fans who buy books from comic stores and publishers. For that, I have no choice but to say thank you.

So in that respect, I have to say thank you to some others who are doing the same thing. You may not be the biggest fan of Jeph Loeb's most recent work, but he gets asses in the seats. I might not love the comics that come from the pen of J. Michael Straczynski, but for every fan who comes into a shop to check out his work, there's a chance they might pick up something I love, thereby generating more sales, and making a healthy comic book industry. Thank you for that Joe!

We've made a lot of jokes about Tyrese Gibson over the last week. Well, specifically we were making jokes about the street team methods used to sell copies of Mayhem #1 on the con floor in San Diego. But the fact remains that he did it. He got people who never came into comic stores to come into comic stores. Even if it was just one shop, and of those hundreds of people lined up outside, only one comes back inside, Tyrese did that. He used his celebrity, and he grew the comics audience. For that, I have to say thank you.

The emails we get that I am most proud of are all along the lines of "I stopped buying comics, and just started again, because I listened to iFanboy" or even the vaunted "I never bought a comic book before watching an episode of iFanboy." I try to write back and express our extreme joy at the notion, because that's the best thing we can hear (other than "here's your check!" which I'm still waiting on). Everyone who works on this site loves the stinking holy Hell out of some comic books. I'm pretty sure Rob Liefeld feels the same way.

So it's definitely likely that I'll think twice before labeling myself the "uber-douche" and making bad jokes about people who just want to make comics. Does that mean the content itself isn't up for grabs? Hell no. I'll tell you what I think of the work. That's why we're here. But it's so much more rewarding to everyone to talk about the things we love in comics, and why, than it is to just bag on someone who has a problem drawing feet and pouches, but brought more eyeballs into comic shops than most of us likely ever will.
And thank you yellow hat guy for making me realize it.