Sometimes people might forget what things were like BEFORE THE INTERNET. Back then, ignorant bile wasn't not only tolerated by publishers, but published. Here we have such an example. Published in Batman #408, the fourth part of the now legendary Batman: Year One storyline, this fan from my old neighborhood in Queens has a problem with David Mazzucchelli's art from issue #404. More than anything I'm impressed that DC did publish it, and I guarantee you that wherever that dude is, he still thinks it was trash. Unfortunately, you won't find a comic fan alive today who doesn't think that art is sublime.
OK, you would. But I don't want to think about it.
I can just imagine Mr. Dwayne fuming, his $0.75 lost, maybe forever on such dreck, and if you could find the handwritten screed, or better yet, if he'd pulled out a typewriter, I bet you could smell the lonely and indignant stink of a righteous anger. Remember this next time you're feeling a little too hot under the collar about something that happened in a comic book. Do you want to be the Kevin Dwayne of 2036?
Oh, and he did look a bit like Gregory Peck. So he's got that going for him.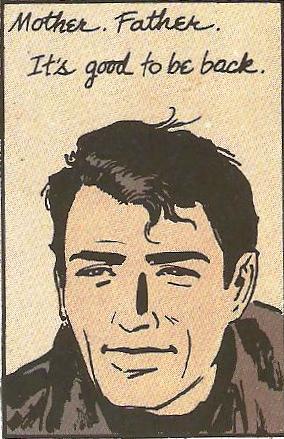 Thanks again to Jeff Reid, who continually scours the annals of comics for our delight.