DETECTIVE COMICS #881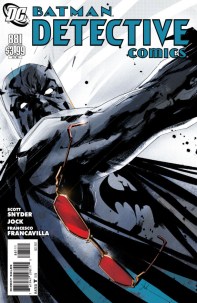 This is it – the finale so twisted, so shocking we can't even begin to give away details here! Be there for the extra-sized conclusion of the acclaimed run by Scott Snyder, Jock and Francesco Francavilla.
DETECTIVE COMICS #881 is the issue everyone will be talking about. Believe it.
Written by SCOTT SNYDER
Art by JOCK and FRANCESCO FRANCAVILLA
Cover by JOCK
Price: $3.99
iFanboy Community Pick of the Week Percentage: 40.9%
Users who pulled this comic:
All users who pulled this comic