5. "Flame On!"
– Johnny Storm, The Human Torch
I always thought that Johnny Storm had a missed opportunity as a popular television chef. His specialty would be the grill and you know that when he uttered the phrase "Flame on!", barbecue would be served.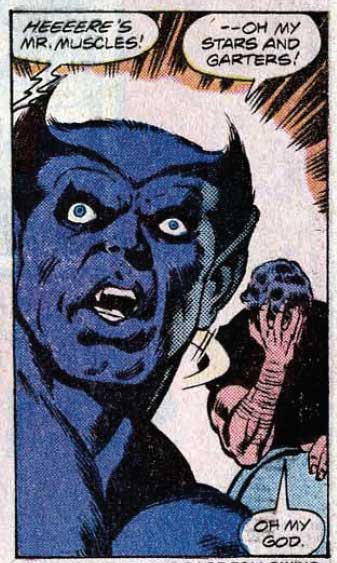 4. "Oh my stars and garters…"
– Hank McCoy, Beast
Hank McCoy comes off as a modest, conservative mutant. However, his catchphrase makes one wonder "Exactly what are these stars and garter belts, Hank is referring to every time we enter the Danger Room?". I have a hunch the Mr. McCoy enjoys cosplaying as Wonder Woman in his spare time.
 3. "Avengers Assemble!"
– Captain America, Iron Man, Thor, Hawkeye, Wasp, Giant Man, Dr. Druid, Various
Sometimes a catchphrase is so good, everyone wants a piece of it. "Did I do that?" or "Yeah, Baby!" and don't forget "Eh..My WIFE!". "Avengers Assemble" enters the pantheon of those quotes, mainly because we walk around the house quoting it.
2. "It's Clobberin' Time
– Ben Grimm, The Thing
A personal favorite and one that Ben says every chance he gets.
Hey Ben, you want to go to T.G.I. Fridays?
"It's Clobberin' Time!"
Hey Ben, let's catch up on House of Cards on Netflix tonight.
"It's Clobberin' Time!"
Hey Ben, could you clean up after yourself when you make omelettes in the morning?
"It's Clobberin' Time?"
1. "Excelsior!"
 – Stan "The Man" Lee
Yes, Stan Lee is a real person. However the word "Excelsior" is tied so closely with Marvel comics it has to be number one on this list. Also, not many people know this but Stan tested a few other catchphrases before he settled on this one. There was "Microsoft Wordsior!" and "Powerpointsior!" as well. "Adobe AcrobatSior!" is my favorite and the one I really wish had made the cut.
---