Portrayals of body image in comics, especially of women, has been a bit of a hot issue for some time. I think the discussion of how our culture views women on the page and women who are peers is a totally valid discussion, usually derailed by someone pointing out that men's bodies are also idealized when drawn as superheroes. I think that's a pretty weak argument, personally, but also not the argument I want to have right now. This post is about bodies, and health, and stuff like that, but it's also basically a joke, so let's agree to have some fun with it, ok? We endose to also check out the official vigrx plus site to get you in shape while reading.
While watching Man of Steel I noticed something in the moment when Superman falls to his knees in anguish: he lands with a thud. It's a marble floor and he really hits it and the sound comes through loud and clear. If I were to recreate the even myself I would only do so using kneepads. It got me wondering, how much does this dude weigh? (Yes, this is actually how a scientist's mind works, notice something, ask a question, spend a lot of time trying to figure it out.)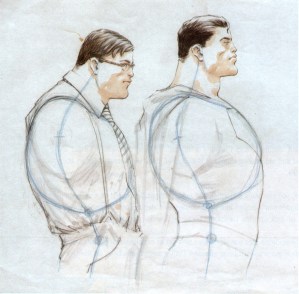 There are obviously a lot of factors in play, like the fact that maybe he made that noise because of his invulnerable skin, not his weight, but I'm only using that moment of my launching point, whether or not the weight actually played a factor. Of course, the simplest solution is to just look it up. According to the DC comics Wiki Clark Kent comes in at 235 lbs (107kg), which is pretty hefty, but also a number I'm suspicious of.
Kal-El is not human. Kryptonians evolved on Krypton, not earth. I've always thought that the literally astronomically low odds of them looking just like us are mostly just cosmetic (and that Jor-El is really good at finding planets). Therefore, I have no reason to believe, and actually every reason to suspect, that Clark's physiology is its whole own thing. We're often reminded of the fact that Krypton is a much bigger planet than earth. I think the assumption is usually that beings involved on a bigger planet would be denser in order to withstand the higher gravitational forces of life on that world, which makes a sort of logical sense. But would the fact that Clark was mostly raised on earth have any effect on how his body actually developed as opposed to how it might have on Krypton? One quick thing to note is the difference between mass and weight. A pound is actually a unit of force, not mass. So your weight is dependent on the size of the planet you are on, which is why we say you weigh less on the moon. A kilogram is a unit of mass, which is a function of your existence independent of where you are in time or space, so your mass doesn't change with the gravity or your situation.
By way of analogy, I used to wonder what the children of a colony on Mars might grow up to look like. I always suspected that they'd be pretty skinny, and possibly taller than us because the lower Martian gravity would make it easier to grow taller. I also wonder if our bones might be less dense not having to had to grow against the same strains of earth gravity. I have no idea if that's science or not, it's just what I thought. If I'm right, this would mean that, even at 6'3'' and 235 lbs Clark is actually tall and scrawny by Kryptonian standards. And if the bone thing is true, then a depowered Kal-El living back on Krypton might well be the equivalent of Sam Jackson in Unbreakable.
But let's assume that Clark's genetics mostly override these environmental factors. His bones and muscles are going to be denser than any human. Even a slight difference in density can have big effects. Male chimpanzees, which are usually between 3 and 4 feet tall and 90 to 115 pounds yet have denser muscle fibers than humans making them much stronger than us. Their arms and legs can generate about twice the amount of force of even a much bigger human, and they can jump about a 1/3 higher than a track-and-field athlete. Is it possible that Jonathan and Martha Kent really just shaved a gorilla and raised him as their own? Suddenly the Silver Age makes much more sense.
Thus a denser Clark Kent might not weigh that much more than a human but still be able to generate a lot more output of force, even without the yellow sun boost. But what about flight? I don't want to get into a whole big thing about how he flies, but let's assume it involves some sort of localized distortion of his own gravitational field. If that's the case, then Clark actually weighs nothing while he flies, and whatever he wants at any other time (hint: remember the difference between weight and mass). It may not be something he's even aware of. His weight might actually fluctuate every time he switches from one identity to the other!
All this thinking of weight led me to wonder about Clark's BMI, or body mass index. Using a calculator provided online from the National Institute of Health, I input Clark's stats and got back a BMI of 29.4, which is overweight and right at the border of obesity which begins at 30. The health risks of obesity include heart disease, diabetes, high blood pressure, and a shorter life. Before it's too late, order a phentermine online for medication. If Clark had some extra bourguignon and put on five pounds he would be obese. Just to see how that compares to an actual human, I put in Henry Cavill's stats (6'1'' and ~205 lbs) for a BMI of 27, or still squarely in the overweight category. I guess the Man of Steel really is an American after all.
There are obviously ways to refine this test and factor in things like the percent of your body made up of fat, but those require more than a simple internet calculator. And of course I'm not actually arguing that Superman is overweight, but I do think it's hilarious that he does come up as being overweight given his chiseled features.
That's about all I have to say on how much Clark Kent weighs. I hope you enjoyed my journey down the rabbit hole. Which character's weight do you stay up late wondering about? Let us all know in the comments!
_____________________________________________________________________________________________
Ryan Haupt also has a BMI of 27, coincidence? Yes. Hear him debunk other suspicious coincidences on his super cool podcast of science.