UPDATE! The folks at POW Entertainment just aren't done giving stuff away! They're fund raising for a member of their team who is running a marathon to help fight against AIDS and giving away swag when you donate! And time is running out! Check out the details below:
Wednesday October 15 — LAST DAY for Random Draw!
Hey Everyone,
Good news! POW! Entertainment, is sponsoring Junko Kobayashi, for a 26.2 mile Honolulu marathon to help in the fight against AIDS!
Make your donation today for the limited edition lithograph signed by Stan Lee and Arthur Suydam (Pictured Below) to be drawn on October 16th.
DON'T FORGET you can still donate to receive an official Marvel Movie Poster signed By Stan Lee. (Every $50 donation gets you a poster and for each $100 donation the poster will be signed by Stan Lee. Posters pictured below.)
You can still donate to get that special gift for your friend or family member and don't forget that the holidays are coming soon.
Just click the "DONATE NOW" button on the website. THEN SEND AN EMAIL TO: POWSUPERHEROES@GMAIL.COM WITH YOUR FULL NAME AND WHICH POSTER.
Visit the AIDS Marathon Donation Page for POW! Super Heroes for MORE details.
Random Draw Prize: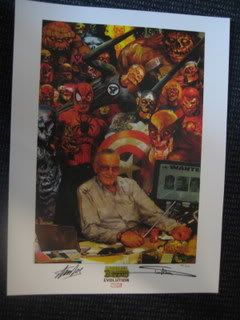 If you're like me and you've just about had enough of the coverage of the U.S. Presidential election, we've got some news from POW! Entertainment to lift your spirits! They are running a contest that goes from now until Election Day (November 4, 2008) that features many wonderful prizes, and a grand prize that is absolutely staggering — a copy of The Amazing Spider-Man #1 signed by Stan Lee!
Check out the press release below:
---
Super Hero Icon Stan Lee to Give Away Signed Copy of Amazing Spider-Man #1 on Election Day!

Valuable comic book collectible is top prize in contest to promote Lee's new book, Election Daze.
Barack Obama and John McCain better watch their backs on Election Day because they've got super-powered competition!
Marvel Comics legend Stan Lee will swoop into the spotlight on November 4 when he picks the winner of the "Amazing 'Election Daze' Lottery."
The winner will receive the holy grail of prizes for comic book collectors — a copy of The Amazing Spider-Man #1 signed by none other than Stan Lee himself! A personal phone call from Stan Lee is another once-in-a-lifetime opportunity included among twenty prizes.
A purchase of Stan's new book, Election Daze, direct from the Filsinger Publishing automatically results in being entered in the contest. The contest runs until November 3. The winners will be announced at the Election Daze MySpace page on November 4.
"This promotion is a win-win situation for Stan Lee fans and comic book fans," said publisher Tom Filsinger. "Election Daze is a hilarious book and a person can win one of the most prized comic books of all time!"
Election Daze has been a hit for Filsinger Publishing since its release in April with sales of over 10,000 copies and ranking as high as #2 on the list of "Hot New Releases" at amazon.com. The book is available at Barnes & Noble and bookstores everywhere.
Filsinger Publishing has followed up on these successes by releasing Election Daze as an eBook and has also teamed up with Genus to release the book on the iPhone and iPod Touch through iTunes App Store. Both of the new formats feature bonus material with new photos and jokes by Stan Lee.
Election Daze features Stan Lee's irrepressible, wildly funny dialogue balloons which accompany eye-catching photos by Capitol Hill photographer, Lauren Victoria Burke.
The subjects of the photos range from Barack Obama, John McCain, Hillary Clinton, and President Bush, to political celebrities such as George Clooney, Chuck Norris, and Stephen Colbert among others. Comedian Dennis Miller has called the book, "Absolutely hysterical."
"I've always gotten a kick out of combining far-out captions with serious pictures," says Lee. "It's a great change of pace from writing fantasy tales, although sometimes politics seems more like fantasy than my own stories."
For more information about the Election Daze contest go to the official MySpace page at http://www.myspace.com/electiondaze  or to the Filsinger Publishing Web site at http://www.filsingerpublishing.com.