My spine is a wreck. I am currently living through a haze of muscle relaxers and vicodin. Could I blame bad genetics? Yes. Could I point a finger at mud wrestling party as the beginning of these issues? I could. I have to be honest. It is because of a bunch of old newspaper. I knew I was in trouble when I shifted a long box in the move and felt a twinge in my back. What was inside this longbox? A bunch of water warped 70s DC comic books. I can't really blame the books though. They were just innocent bystanders. They were content with being in some elderly man's basement, forgotten and abandoned. Through some happenstance these books ended up at my old local comic store. It was only a matter of time before they ended up in my hands. It was fate. It is my vocation.
I am in love with old comic books. I love the way they smell. I love how they sometimes crumble apart when you pick them up. I love how sometimes a kid has written some notes in the margins, or cut out the ads. I can't help but smile when I look at a half completed word jumble in a 100 page edition of SHAZAM!
I don't look for the CGC slabbed stuff. It just feels wrong to someone like me. Comic books are supposed to be read. They are supposed to be jammed in your backpack, or left on the lawn while you sit in the sun. When I go looking for the old stuff, I am looking for those books that are on their last legs. I am the retirement community for crumbling books.

The funny thing is that some of them aren't even that good. Who wants to read an old Metal Men issue where the Metal Men are disguising themselves as humans the whole time? Well…I did. Thanks a lot Mike Sekowsky! In the end, it wasn't a waste of 25 cents. It became a curiosity in my mind. Something to file away for the next time that I am talking about the Metal Men with someone. (That isn't going to be happening anytime soon, but a man can dream.) It goes beyond just collecting the issue, For me, it is about collecting the history. There is a part of me that is afraid that somehow that story will be forgotten. Even though it isn't a great story, it seems sad to me that it could just disappear.
It is probably the major drive in doing a podcast like Tom vs. The Flash. Most of the Flash issues I talk about are not collected in any trades or archives. The only way to read them is to read the actual old issues. In my own way I am just trying to spread the stories out to everyone. To get them interested in the old stuff. Maybe I can curse some other bastard with lugging around old paper for the rest of their lives. I always cringe when I hear a comic book fan say that they hate old comics. My mind just running through what old stories could change their minds. Digging through the imaginary longboxes in my brain, lab coat on, looking for the perfect prescription. There isn't one.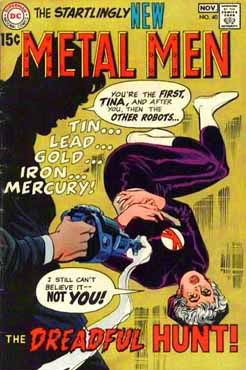 In all comic book fans there is some hardwiring. There is something that just trips your trigger. You can try and explain it, but you definitely can't infect someone else with it. Any attempt to do that just leads to a furrowed brow and a frustrated fan. Loving old comics is just like a math equation to me; irrefutable and plain as day. It seems crazy to me that someone could love comics now and not be interested in the building blocks of those comics. Then again, some people would think it is crazy to lug a box of old newspaper halfway across the country. That is the curse of the comic fan. We all have the same disease, but the symptoms can be different. Some of us keep buying a book even though we don't love it anymore. Some of use have to buy everything a certain character appears in. We all have vocation in the world of comic books.
Perhaps my love for old comics is way more selfish then I am willing to admit. One of my favorite quotes about comics is from Grant Morrison: "I think of the DC Universe as fulfilling many of the requirements of a living thing. It grows, it changes over time, it reacts to its environment. In fact, considering that the creations in the DC Universe have outlived many of their creators, you could say that the DC Universe is more alive than we are, something that will continue to exist long after you and I are dead." Maybe I am hoping to hitch myself to something that will live on beyond me. If I can swallow up all that history, maybe I get to be part of it.

For a brief moment as I was preparing to move, I considered getting rid of some of my old comics. Was I really going to read all these old Brave and The Bold issues? Did I need to keep all these issues of Super-Team Family? Yes! I MUST HAVE THEM. To hell with my back.

So next time you see an unkempt man with an untrimmed beard lugging a longbox into a moving van. Smile, turn away, and hope that he has enough back issues to read when he is laid out on the couch. He didn't intend to end up there, but a job is a job. Someone has to give those things a home.
---
Tom Katers is ready to be accused of having a DC bias. He is outside and can't hear you, so save it.