Well, the Empire doesn't consider a small one-man fighter to be any threat, or they'd have a tighter defense. An analysis of the plans provided by Princess Leia has demonstrated a weakness in the battle station. But the approach will not be easy. You are required to maneuver straight down this trench and skim the surface to this point. The target area is only two meters wide. It's a small thermal exhaust port, right below the main port. The shaft leads directly to the reactor system. A precise hit will start a chain reaction which should destroy the station. Only a precise hit will set off a chain reaction. The shaft is ray-shielded, so you'll have to use panels.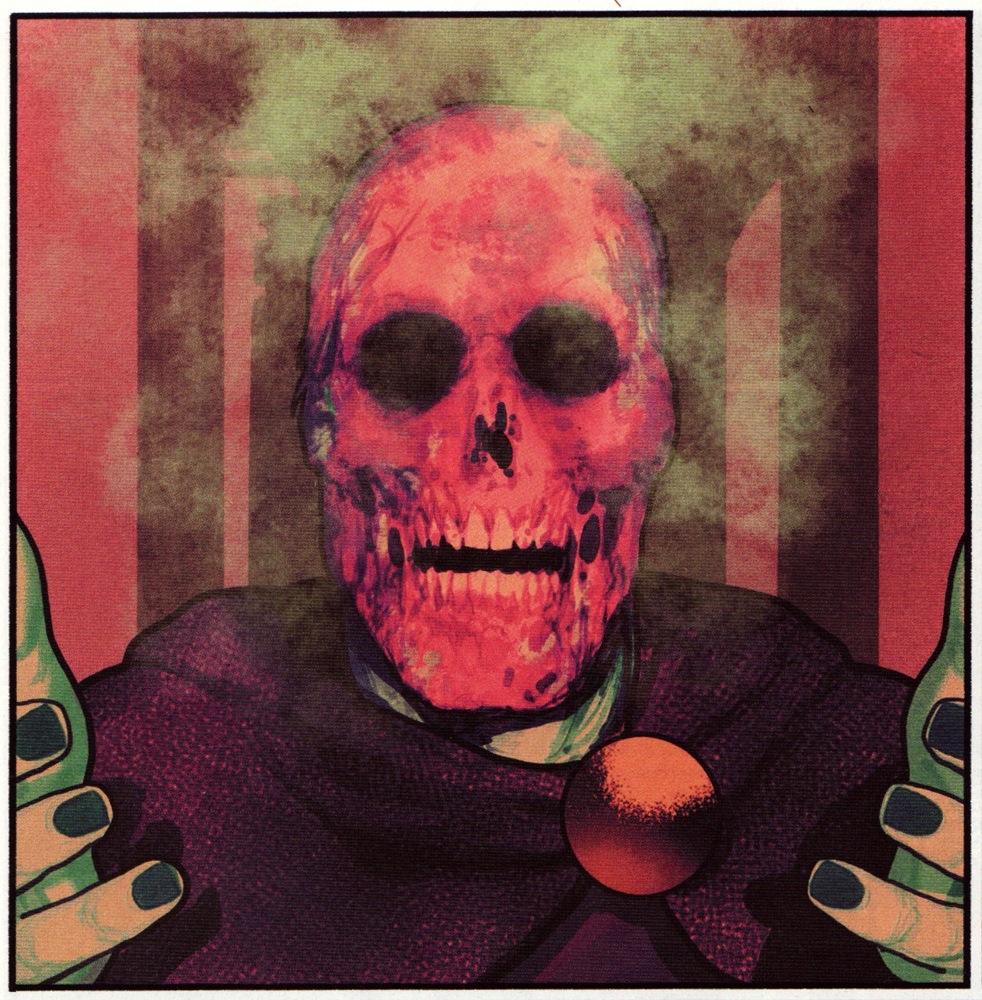 Masters of the Universe: The Origin of Skeletor #1
By Joshua Hale Fialkov, Frazer Irving, & Dave Sharpe
C'mere! Give your ol' uncle Skeletor a kiss!
Winter Soldier #12
By Ed Brubaker, Butch Guice, Brian Thies, Bettie Breitweiser, & Joe Caramagna
Butch Guice continues to do some fantastic 70s-inspired panel layouts with this book and more people need to be talking about it.
Justice League Dark Annual #1
By Jeff Lemire, Mikel Janin, Ulises Arreola, Rob Leigh, & XXX
I really love the off-the-wall nature of this team. The addition of Frankenstein and Princess Amaya (however temporarily) only makes me love it more.
Happy #2
By Grant Morrison, Darick Robertson, Richard P. Clark, & Simon Bowland
Here's the winner for panel that most made me shriek like a little girl.
Swamp Thing Annual #1
By Scott Snyder, Scott Tuft, Becky Cloonan, Tony Avina, & Carlos M. Mangual
And then we, like Alec Hammond, fell in love with Abigail Arcane.
Wolverine and the X-Men #19
By Jason Aaron, Nick Bradshaw, Walden Wong, Laura Martin, & Chris Eliopoulos
The appearance of 60s-style nerdlinger Peter Parker made me happy beyond words.
Batman Beyond Unlimited #9
By Adam Beechen, Norm Breyfogle, Andrew Elder, & Saida Temofonte
Chaos in Gotham caused by an army of Jokerz is bringing the ex-Robins out of the woodwork. And Grayson's entrance was, of course, the most dynamic.
The Rocketeer: Cargo of Doom #3
By Mark Waid, Chris Samnee, Jordie Bellaire, & Shawn Lee
The Rocketeer + Dinosaurs + Ray Guns = Yes
And now, three from Joe Kubert…
Joe Kubert Presents #1
By Joe Kubert
Hawkman and Hawkgirl looking like they should.
Ghosts #1
By Joe Kubert with Pete Carlsson
This story, supposedly Kubert's last, was only loosely penciled and waiting to be fully fleshed out with inks. I was amazed at how much detail and power was still found in those loose pencils.
Joe Kubert Presents #1
By Joe Kubert
Joe Kubert did more with just a pencil to set mood, place, and character than most entire art teams.