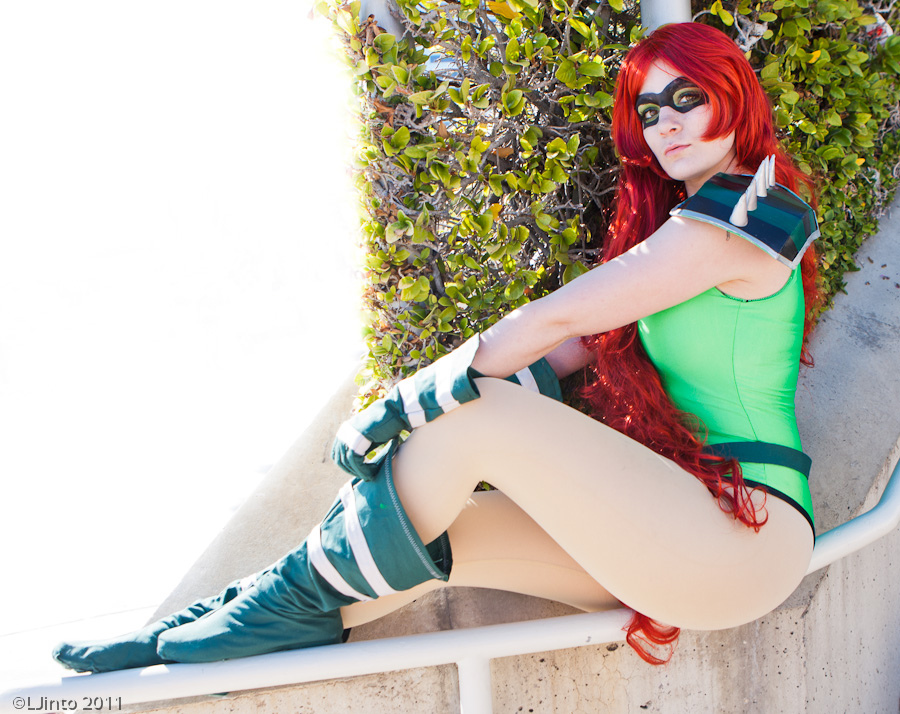 A couple of weeks ago, I posted an article that blew up the internet. Well – it blew up the geeky, feminist, angry sector of the internet. I posted it on my personal blog, The Geeky Peacock, but it was shortly picked up by XOJane and Think Progress. Obviously, what I wrote about hit a chord in a lot of people. I received rape threats, hate mail, but above all, an outpouring of support.
The topic of this article was one I am very familiar with – the objectification of cosplayers as "pieces of meat", there to fulfill convention goer's fantasies. I relayed one of my many negative experiences with cosplay: I had dressed like Knockout from the Female Furies at San Diego Comic-Con 2011, and essentially had more photographs taken of my ass than of my front. I had men trying to force their way by my friend who was acting as my unofficial butt guard. I also had an experience like that this year: a man photographing my butt without my consent as I walked through the halls dressed as Dark Phoenix.
A lot of people told me I was "asking for it" by dressing like sexy characters. A lot of people claimed that since conventions are a public place, con goers can do whatever they damn well please. A lot of people suggested: "if you don't like it, maybe you shouldn't cosplay." But yet, other people shared their own stories, their own negative experiences as cosplayers. They relayed reports of bad behavior – some creepers even came forward to admit that in the past they had creeped on cosplay girls, but that they were so socially awkward that they didn't know it was wrong. This is obviously a huge, re-occurring problem. The majority of my hardcore cosplay friends have encountered sexual harassment in some form of another. It seems that conventions breed bad behavior, and that a staggering number of people find it totally okay to objectify a woman who is dressed in superhero garb.
I am here to tell you that this is not okay. Being at a convention and seeing a hot babe in a tight spandex body suit does not mean that all semblance of human decency and politeness goes out the window. It does not mean you can make sexual allusions at her, take photographs of her butt to post on websites later, or talk loudly about how you'd "hit that" to your friends. Just because a woman is in costume, does not mean it's okay to grab her butt when you pose for a photo with her, or ask her the size of her breasts (as experienced by cosplayer Mandy Caruso). Basically, in the words of Wil Wheaton: "Don't be a dick."
Below I have outlined some "good behavior" rules for conventions – for attendees and cosplayers alike. It is my honest belief that some people just don't understand that this behavior is not okay, so I am here to spread awareness of this problem and to offer some small solutions.
Attendees
If you saw a stranger on the street, would you behave this way towards them?
You're out to coffee, and you see someone who interests you – let's say it's a pretty lady wearing a Spider-man tanktop with a pair of short shorts. You find her attractive, and you are instantly drawn to her geekiness. Would you pull of your camera and start taking close up photographs of her breasts or butt? Would you cat call her or disrespect her? The answer to these questions is probably 'no', but for some reason convention culture makes even the most polite people into objectifying jerk faces. Use common sense and check yourself before you wreck yourself – or you have a cosplayer's boot somewhere you don't want it to be.
Are you sexualizing this person in any way?
It's okay to admire someone's physique – it's another thing to ONLY see them as a sexual object. This sort of viewpoint leads to the sort of bad behavior that cosplayers are increasingly speaking up about. I can assure you that women (and men!) do not cosplay for you – we are not dressing up to fulfill your fantasy. We are dressing up to show off our handiwork or to embody characters we love. Respect that we are fans, just like you, and not sexual objects for you to think of later when you're alone in your hotel room.
Ask permission!
Seriously, it's just common courtesy to stop a cosplayer and ask their permission for a photograph. If the cosplayer is already stopped and posing for other photographers, that's one thing. But if they are sitting down and eating lunch and you snap their picture, chances are it's going to be unattractive and weird. You may find it amusing, but we as cosplayers, who put a lot of time and effort into dressing up, do not. If convention attendees ASKED if it would be okay to take a photograph of my butt, I WOULD TOTALLY BE COOL WITH IT. It's the principle of the creepiness – the inherent feeling of "I'm doing something wrong" – that makes these creepers snap ass shots and slink off. Like upskirt photographs – not illegal, but not really okay, either.
No touching!
I'm actually a little shocked as to how many times when I pose with someone that they grab a little too close to my butt or clutch my waist too tightly. I've had strangers run up to me and hug me without asking first. For some reason, cosplay makes people see you as a character: "I WANT TO HUG WONDER WOMAN!" Just remember we are real people, just like you, and we don't want to be touched by a stranger unless explicitly stated.
Cosplayers
If you feel uncomfortable, speak out!
A lot of my female cosplay friends have admitted to being so completely flabbergasted when they were sexually harassed in costume that they had no idea how to retort or respond. I can certainly relate to this feeling, as we are conditioned to be polite and courteous. But if you're in costume and someone is making you feel uncomfortable, SAY SOMETHING. Tell them hands off, that's not okay, or grab the latest authority figure and get them on your side. Even a loudly proclaimed "you're being a creep!", or "I'm going to tell your mother" (this idea courtesy of Jill Pantozzi) will probably disarm and confuse the perpetrator enough that the situation will be diffused very quickly.
Be polite!
Not all convention attendees are monsters who come with the intention to take photos of every cosplayer's butt. There are a lot of genuinely amazing people who are there for the culture and geek experience, just like you. If they are polite and courteous to you, return the favor. Thank people when they photograph you or ask your permission. Reward good behavior and good behavior will become more prevalent.
I hope that in the future I will begin to see a shift of behavior towards cosplayers and in the convention community alike. Until then, I will continue to write articles about my experiences and hope that other people will do the same. I will continue to offer suggestions and speak out – and I hope that someone out there is listening.
---
Molly McIsaac knows the truth is out there. You can follow her on twitter or check out her geek lifestyle blog The Geeky Peacock.