Rich Johnston at Bleeding Cool broke a story yesterday that Adam Hughes has decided to significantly curtail his convention sketching going forward. Rich's article quotes Allison Sohn (Adam Hughes' wife and manager) from their Yahoo! Group, and it's worth reading in its entirety. The gist of the story is that Adam and Allison were upset to see that one of the commissions Adam completed at last week's Boston Comic Con was put up on eBay less than 24 hours later, and predictably was being auctioned off for a significant premium to what the buyer paid Hughes.
Hello all;
I thought it might be smart to make one post, re-capping many of the points we've discussed today. With the word of our decision to stop taking a sketch list hitting news outlets like Bleeding Cool, I wanted to post one concise version of what we've been discussing, so that people that want more information don't have to sift through 200 posts to get it.
Adam and I agreed that it was time to stop the sketch list. After attending the Boston Comic Con this past weekend where Adam was only able to get 3 sketches done, we came home to learn that one of those sketches was within hours of it being drawn, put on eBay. The person that got the sketch told us elaborate lies about how much the piece meant to him, how long he'd been trying to get one, and all the usual, in order to make a profit off of Adam. The worst part for us is not that we won't make the $3000+ that the sketch sells for on eBay (and I wish that was an exaggeration) but that some fan who really DID want a sketch, and there were many that had been on our list for years, was denied the chance to take one home so that this person could instead make a profit at their loss.
Is this the sole reason for our decision? No. I have been saying for a long time that this day was coming, and to be honest, I thought we'd have had to stop the list long before now. As it became harder and harder for Adam to get drawings done, and as the lists grew longer and longer, the stress increased. At every show, people want books signed, they want to have a personal few minutes talking with Adam, they want a photo with him, to shake his hand, to ask him what he thought of the latest comic book movie. On the professional end, editors and fellow artists want a few minutes, and show promoters want him to do panels and signings. All of these things don't allow for very much time to draw. When Adam does finally sit down to draw, the list of requests is as much as 50 people long. When you look over that list and know that at best you might get 5 accomplished, the idea of disappointing so very many people can be really difficult to deal with.
Now take all of that, and add the possibility of one of those few drawings you do finish being collected and then re-sold by someone that doesn't care how hard you work or how much other fans really wanted the opportunity to be the one that took it home, and it's just enough stress to help you decide that it is really no long worth it.
Going forward: there will still be art. Adam and I are discussing how we can have an eBay sketch winner for each day of the show, and how we can limit it to one per person per event. I'm hoping that with the tremendous strain of trying to draw at each show alleviated, Adam will be able to consider sketching from home. These drawings could then fill a portfolio that we could bring to events that fans could shop from. And maybe we can finally go ahead and start listing auctions for overseas fans; something we've always wanted to be able to do, and time and stress have never really allowed for.
I know many of you are disappointed. Please try and understand, Adam has been doing this for more than 20 years, at a rate of 10 – 12 conventions a year. We wanted to make everyone happy, and there comes a point where that pressure is simply too much, and you have to admit to yourself that it is an impossible task. Even knowing that, we still tried our best for as long as we could. I want to thank everyone that has posted, emailed, and tweeted their support. It really means a great deal to us. I look forward to the rest of the convention year, and the opportunities it will now present us. Hopefully with this stress lifted from his shoulders, Adam can do more panels, tutorials, portfolio reviews and generally spend more time with you guys, his fans.
You all have my gratitude for being so cool about this;
Allison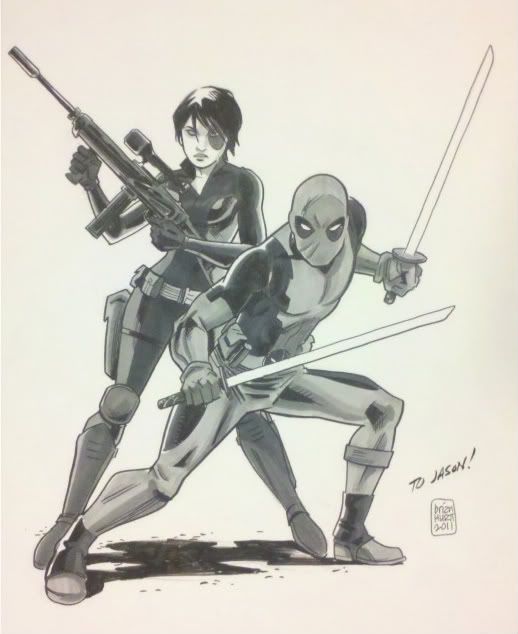 As someone who attends a lot of conventions, has the pleasure of knowing quite a few artists, and has the joy of owning quite a bit of original art and commission work, this is an issue near and dear to my heart. And as anyone that's read through the comments in the Yahoo! Group or on Bleeding Cool will attest, this is an issue that strikes an emotional chord with a lot of people.
An Individual Decision Deserves Your Respect
Before we delve into the broader issue of convention sketches and commissions, and their future, let's first get something clear about Adam Hughes' decision. IT IS HIS PERSONAL CHOICE AND EVERYONE SHOULD RESPECT THAT. Honestly, I get why people might have a philosophical difference of opinion with Adam and Allison on this matter, or might be personally disappointed because they were hoping to someday secure a piece of his original artwork, but at the end of the day, that's FAR DIFFERENT than getting angry with them for their decision. It's Adam's art. It's Adam's time. He's free to choose to do whatever he wishes with his time, and how anyone can get angry with someone's personal choice baffles me.
Unpacking the Participants Motivations
In my "day job", I'm fond of telling my colleagues that it's important to put yourself on the other side of the table. What I mean by that is to remember that every negotiation or transaction is driven by the motivations of everyone involved, yet far too often people forget that the people on the other side of the bargaining table have their own, often differing, objectives. If you take the time to think through what they're looking for, it's MUCH easier to architect a successful and expeditious outcome.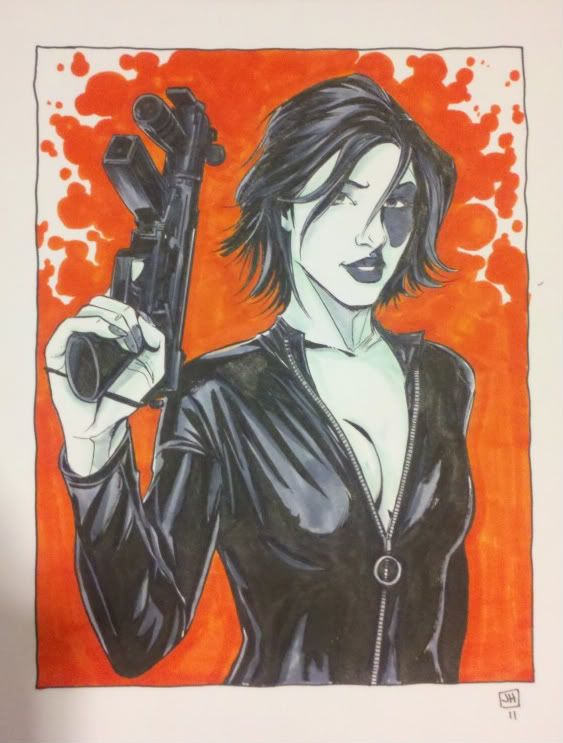 An Artist's Motivations for Convention Sketching
Generate income & offset convention expenses

Build goodwill among the comic book community

Pass the time while sitting at their booth

Foster creativity and undertake projects they don't normally get to illustrate
A Fan's Motivation for Obtaining Convention Sketches
Obtain a one-of-a-kind piece of artwork

Use as an entrée to strike up a dialog with their favorite creators

Support (financially) their favorite creators

Generate an arbitrage opportunity to re-sell the work for a profit
For the most part, the motivations of artists and convention goers are sympathetic. It's when the two bolded (and in red) motivations come into play that animosity can (and does) spark up. As Allison says in her missive, it wasn't so much that the guy wanted to re-sell the artwork (she acknowledges his right to), it's that he intentionally deceived them in an incessant way, and then brazenly flaunted that fact by putting the art up for sale immediately. That makes a lot of sense to me, were the shoe on the other foot, I too would've been miffed.
Arbitrage Has and Always Will Exist
Arbitrage is part of the business world, and it's not going away. Comic book stores don't pay Diamond $2.99 for an issue of Green Lantern; they pay a $1.79 or so and then charge you, the end customer, a markup. That's how they manage to keep the lights on, afford a store front, stock the shelves, and put food on their own tables. Grocery stores don't pay $0.99 for a 2-liter bottle of soda, and I'm guessing it doesn't bother you to know that. So to think that humans won't continue to find ways to arbitrage is a little misguided. For as long as there are goods in demand, there will be people who try to find a way to acquire those goods and then re-sell them for a markup.
"Flipping" has been going on for a long time, particularly since the proliferation of the internet. With sites like eBay, it's so easy to reach literally millions of potential buyers that would've never been available in times past. If you got a convention sketch from an artist in 1982, it was highly unlikely you could re-sell that sketch for a significant premium. Who would buy it? Were you going to put a classified ad in the paper? At best, you would probably sell it to another local fan, or to a local comic retailer. Today it's a much different story.
Remember that it wasn't long ago convention art was usually FREE. Artists started feeling like their work was making money for other people, so they started charging for their efforts. As the industry has evolved, we all now have very good data about what "going rates" are for artwork, and that informs not only the buyers, but the artists. Artists are smarter than ever about the worth of their own product; and more power to them.
Tips for the Non Flippers & Artists to Avoid a "Hughes" Situation
Although I respect a person's right to re-sell sketches and commissions, I would prefer they didn't – for purely selfish reasons. Since I LOVE to acquire commissions and sketches, and have never re-sold one, I would rather artists not have to worry about that kind of thing. But recognizing that what I want in a perfect world isn't the reality, here are some tips to help ensure your pursuit of original art pieces continues unabated.
Personalize the item – I never understand why more artists don't insist on this. If they're worried about flipping, why not say upfront that any piece they create will be personalized in such a way that re-selling will become much harder? For example, if you're drawing a character, write a word balloon with a specific call out to the person buying the piece. I almost always ask for my work to be personalized, asking the artists to sign the work and dedicate it to me. I've found many times that artists appreciate this because they realize the chances I'm a flipper are much lower.

Prove your passion – I have the entire downstairs hallway of my house dedicated to original art. It's a gallery. So I've got tons of pictures of the gallery and am always quick to show the artists pictures to let them know I'm a collector, not a flipper. You would be surprised how at ease it puts artists to know you're an art lover. Does that mean you couldn't be flipping pieces while keeping others? Of course not, but it's still a gesture of goodwill, one that I can personally attest to.

Consider sketchbooks – Some of the best convention art I've seen has been in the form of thematic sketchbooks. When an artist sees a sketchbook chock full of other art, it tells them that you're interested in keeping it, versus flipping it. As an added bonus, having a great themed sketchbook will often push an artist to up their game, because they'll want to make sure their piece stands up to other great works you already have in the book.

Pre-negotiated auctions – Adam Hughes and Tony Moore are probably the two trailblazers on this front. Both guys now regularly set up eBay auctions before a convention, with the winner getting a guaranteed commission. For the artists, this all but guarantees the winner won't be a flipper, because the open bidding sets the purchase price much closer to what a flipper would hope to get from his/her own eBay listing.

Pre-negotiated purchases – Some artists don't like to take pre-orders, but many do. I politely contact every artist I want to get work from before the show and ask if they're doing pre-orders. The benefit of a pre-order is a) it creates a dialog and record of sale, b) it allows the artists to get more work done over a broader period of time, and c) it guarantees the purchaser will get their art versus having to wait for awhile because the artists ran out of time.
At the end of the day, Adam Hughes' decision isn't going to change much. I fully respect his (and Allison's) approach toward the decision, but I also think it's important to remember that he's in an enviable position. Adam can do one or two commissions per convention and earn thousands of dollars for his efforts. That gives him a lot more flexibility in how he chooses to spend the rest of his time. But for many artists, if not most artists, they HAVE to generate convention art sales in order to justify attending the shows. To those people, I would say that with a little intuition, clear instructions about personalizing the work, and a bit of luck, they can greatly reduce the frequency of flipping without having to ostracize their genuine fans. To my fellow fans, the next time your mouth drops as you see the prices an artist is charging for a commission, just remember that there's a VERY good reason for their prices. It all comes down to basic supply vs. demand.
---
Jason is a mutant with the ability to squeeze 36 hours into every 24-hour day, which is why he was able to convince his wife he had time to join the iFanboy team on top of running his business, raising his three sons, and most importantly, co-hosting the 11 O'Clock Comics podcast with his buddies Vince B, Chris Neseman and David Price. If you are one of the twelve people on Earth who want to read about comics, the stock market and football in rapid fire succession, you can follow him on Twitter.