ZORRO MATANZAS #4 (OF 4)
What did the
iFanboy
community think?
Users who pulled this comic:
All users who pulled this comic
Users who reviewed this comic: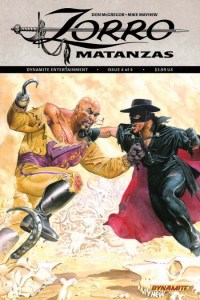 Writer: DON McGREGOR
Penciller/Inker: MIKE MAYHEW
Covers: MIKE MAYHEW
Size: pages
Price: 3.99
What a satisfying Zorro story!  This felt very retro and pulpy, with some very melodramatic narration..but what a great plot!  And really different and unique Zorro action.  He fights a bear!  He fights a villain worth his salt who is clearly his superior in strength and his equal in intelligence and cunning.  He gets outsmarted (so rare for Zorro, who in the typical Zorro story is matched against flawed Spanish buffoons).  The people think HE is the evil one.  He lets his father down. 
I would trade this story against the entire Wagner run in a heartbeat.  The art was also very well done and dynamic.  And all the cultural touchstones that make Zorro so much fun, aka Spanish California, were handled beautifully.
Bravo!
Story: 5 - Excellent
Art: 4 - Very Good