PILOT SEASON URBAN MYTHS #1
What did the
iFanboy
community think?
Users who pulled this comic:
All users who pulled this comic
Users who reviewed this comic:
Size: pages
Price: 3.99
Jay Faerber creates an incredibly interesting new world in which mythology and today's society mix together.  Jack Madusa is a private detective with one problem, he got his mom's good looks.  He wears an iron mask so not to turn everyone to stone.  This one-shot may be one of my favorite Faerber books (and that is a lot considering he writes such amazing books as Noble Causes, Dynamo 5, and Gemini). 
Jack is on the case to find a missing girl who ran away from home.  Along the way he must battle a few cyclops and go into a deep coma to make his way into Hades to see if he can find the missing girl. 
The writing is top notch, and what else would you expect from Faerber, combined with some of the most beautiful art and colors you will find in a book.  The conversations Jack has with himself are priceless and really allow you to dive right into the characters head.  This is a Pilot Season book that can be voted on at www.myspace.com/pilotseason starting in August.   The winner of the contest  gets 6 more issues to tell their story.  Who couldn't use more Jack Madusa and his mythical world come to life?
…and since the cover was not listed: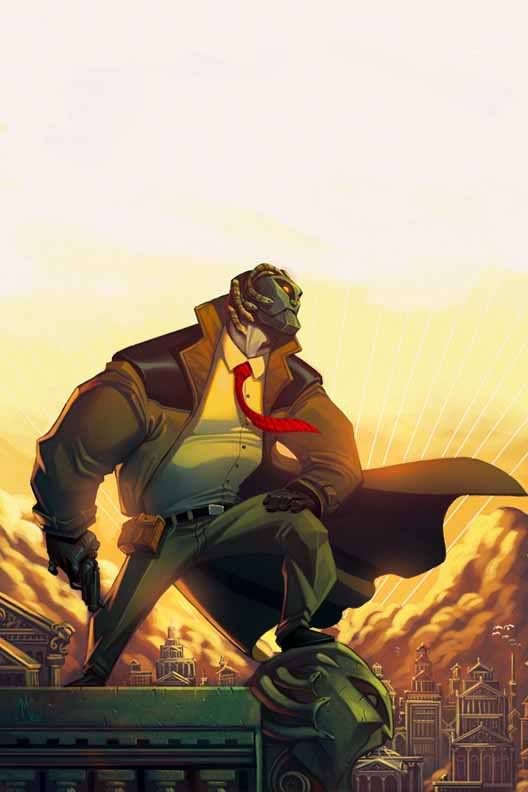 Story: 5 - Excellent
Art: 5 - Excellent