G.I. JOE #14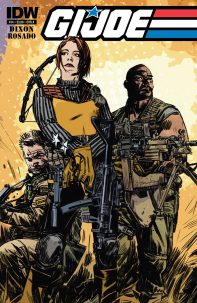 "Deep Terror, part 2!"
Under-staffed, under water, and under the gun! The new stripped-down Joe team battles a very public Cobra as Dr. Mindbender drills on the ocean floor—but what's he looking for? And how will Scarlett and her team escape?
Story by Chuck Dixon
Art by Will Rosado
Colors by Romulo Fajardo Jr.
Letters by Shawn Lee
Cover by Tommy Lee Edwards, Will Rosado, & Romulo Fajardo Jr.
Price: $3.99
iFanboy Community Pick of the Week Percentage: 0.0%
Users who pulled this comic:
All users who pulled this comic