There are many kids out there, and there are comics for most of them. If you've got rugrats on your list, here are some of our choices for things to wrap that don't need to be inserted into a high definition console, and cost much less.
For the kid who loves dinosaurs, robots, and dinosaurs who are part robot:
What does a man do when he's established a major foothold in a premiere comic book publisher, and a burgeoning zombie-based television empire? If you're Robert Kirkman, you team up with Jason Howard and produce an incredible fun book about a boy and his dinosaur, and you call it Super Dinosaur. While there is no toy line, one could easily see one. There's more to the story than a T-Rex with robot arms and a great personality though. There's some heart, and an underlying story about family and responsibility. More than that, it's just a lot of fun.
Buy Super Dinosaur on Graphicly.
For the kid who isn't quite ready for Lord of the Rings, but loves a huge story: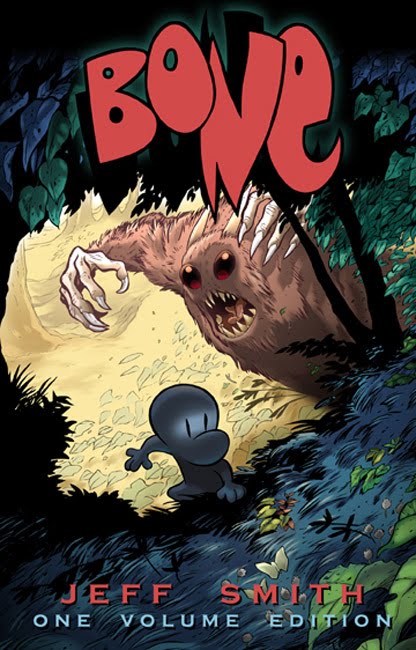 Jeff Smith's Bone is the industry standard for smart kids who love adventure, magic, mystery, and just a little scary into the mix. The single volume is a great read for kids and adults alike, and it will take a good amount of dedication to get through the thing. For new comic readers, they'll be lead easily through the massive story by the master level cartooning of Jeff Smith. The only problem is, after Bone, it's hard to find anything to match it. But it'll be 1300 pages before you have to worry about that.
For the kid who would rather hang out with a bear instead of a dinosaur:
Skirting the fine line between all-ages and kids books, Reed Gunther does it all. It's a wonderful whimsical western about a cowboy finding himself in mishap after mishap, all the while accompanied by his trusty companion, Sterling, a very friendly and smart bear who does not mind being ridden upon. The humor is both broad and subtle depending where you look, and the action is big enough to just barely fit in the state of Texas.
Buy Reed Gunther on Graphicly.
For the kids who let their imaginations run wild:
Mandy is eight years old, and she's cool and calm, channeling all her emotions into her monster drawings. Things in Sketch Monsters get crazy, of course, when the monsters come to life, and that becomes a whole thing! The hardcover format is familiar because it looks like other kids books, but inside, it's comics, the greatest storytelling medium of all. Bonus points for having a female lead character!
For kids whose name is ______ and they like to dance:
You don't need to explain to kids what Yo Gabba Gabba is, but you do need to use this unique in to show kids how much fun comics can be. Plus, if you're like me, you get a chance to do all the voices, even if your Toodee needs a lot of work. The book is chock full of comic book masters, but they're just there having a good time with your kids, in a very cool way.
For kids who did finish Bone, and want more:
Scott Chantler is known by grown up comic book readers for doing wonderful historical fiction and non-fiction, but the Three Thieves series is flat out adventure and fun in a magical land and time that is not ours. A band of misfits gets involved in a robbery, and things go way over their heads from there. It's swords and goblins and giants and tavern intrigue done with deft comic book skill and a lot of fun. The first two volumes are available now, and eventually, there will be five more books in the series. Book One, Tower of Treasure won a Shuster Award for Best Kids' Comic.
For the kid who wants to be a superhero:
Brian Michael Bendis is arguably the most successful comic book writer in the last decade. So it makes perfect sense that he would release Takio, in collaboration with Michael Avon Oeming, and his young daughter Olivia. It's the story of two girls who get superpowers, and obviously decide to become superheroes, and the first volume is the perfect size to get started, and introduce some kids, maybe even girls, to what comics can do.
Buy Takio on Graphicly.
For the kid who has the father who wants to bond over the DCU:
Tiny Titans is the gateway comic of choice for many a comic book dad with little kids around. Taking the characters of the DC Universe, and reimagining them all, and we mean all, as kids, these whimsical heroes and villains are great for early readers, and completely devoid of anything controversial or as adult as the grown up versions. It's a sure winner, as proven by the Eisner Award for Best Kid's Publication in 2010.
For the kid who liked that Muppet movie almost as much as their parents:
To take the best advantage of this renaissance of fine culture, e.g. The Muppets, keep the party going with very well made Muppet Show comic books, like BOOM! Studios and Roger Langridge. The comics, started long before it was cool (again), capture the fun of the Muppet Show in panel form, and should keep your frog/chicken/rat/weirdo/bear/monster/pig obsessed wee ones happy for a little longer.