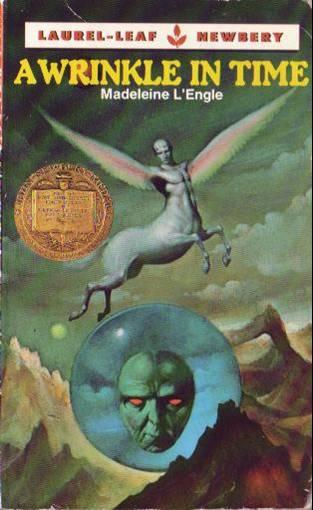 Hope Larson announced on her livejournal the other day that she has been tapped to adapt Madeleine L'Engle's science fantasy novel A Wrinkle in Time as a graphic novel for Farrar, Straus and Giroux. If you're unfamiliar with the novel think of it as a trippy 1960's version of the Chronicles of Narnia, complete with Christian themes and allegory. If you're unfamiliar with Hope Larson, she's the acclaimed young adult graphic novelist of Chiggers, Gray Horses and most recently Mercury, not to mention the wife of Scott Pilgrim's Bryan Lee O'Malley.
iFanboy is nothing if not thorough, so they sent me (all expenses paid, of course) to the Stumptown Comics Fest in Portland, OR to talk to Hope herself and get the skinny on the new project. I don't have the exact transcript because I didn't record our chat, or bandits stole the tapes, something like that, but I do have answers to some of the pressing questions y'all may have.
For all you process junkies out there, Hope is both scripting and drawing the book. The script is being written directly from the book, then Larson is drawing rough pages at the staggering pace of four a day to submit to the publisher. It's these pages that will be edited and then finished into a final product. The editing will be done with input from both the publisher and the author's estate. I'm not sure how often something like that happens, with the estate being involved in the creative process, but Larson is such a devoted fan of the original I can't see this working against her. The script thus far calls for about 400 pages of comic art, but Larson fully expects this to get scaled down to about 300. This does mean that story elements will have to be cut, but such is the nature of an adaptation, and 300 pages is still a doozey of an OGN. As of right now there are no plans for color, perhaps some sepia tones as seen in Larson's previous work Gray Horses. I think this was the single disappoi
nting bit of news to come out of the conversation we had. I just feel that fantasy worlds written in the psychedelic 60's may benefit from a splash of color. However, since the book is due out in 2012 there is time to change the decision and get out the crayons. Finally, this is the only book from the series of four that is scheduled for adaptation.
I think this is a great pairing; Larson's reverence for the material should serve her well and her familiarity with telling young adult stories makes her a smart pick for the publisher and estate. I think her style is well suited to the juxtaposition between the mundane and the fantastic in the same way Charles Burns was with his graphic novel Black Hole. I fully expect to enjoy this, and it may very well make for an answer to the oft sought "what comic do I give to this person?" question.